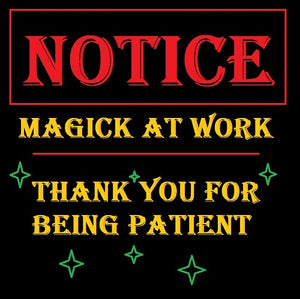 Lotus Dandelion - Elite Wealth Djinn - Money Matrix
$149.99

$149.99

Save $1,050
---
---

Lotus Dandelion Binding - Elite Wealth Djinn


Being: 1 God-Level Wealth Marid Djinn Entity

Bonus: Money Matrix Spell

12+ Page Cloud Download: Full page being name and attributes, full page being details, full page favorite offerings, full page bonding instructions, articles, resources, and spell information. Packed full of great knowledge and tools.


---


This being is best suited for:


Someone who is ready to take hold of wealth.
Someone who frequently thinks about how to make more money.
Someone who is tired of working and barely getting by.
Someone who has a dream and needs direction.
Someone who shares the idea that money is a tool.
Someone who wants to work for themselves.
Someone who knows they were meant for more.
Someone who is not afraid of wealth.
---
The Wealth Djinn are extremely powerful djinn that help identify and correct money scripts and move you forward into the mindsets and actions that grow wealth. You CAN transform your financial situation and experience the freedom of wealth.
Wealth is more than good money management, luck, or opportunity. There seems to be an invisible element that creates it. This has been documented throughout history in fables and myths. Shown in stories of spinning straw into gold or having a midas touch. While some will say making money only comes from hard work and good choices, others will say you can work your entire life, saving your money and die poor. Which one is correct?

We know that wealth is a combination of ingredients that make the perfect stew. Wealth is lining up the tumblers of a lock in the right way that opens the door. Most people only receive the secret to one or two ingredients or know the position for one or two tumblers. Imagine if you could just receive all of the right information?
Imagine no more...
This offer provides powerful magick, real wealth knowledge, and financial wisdom. Are you ready for great changes?
---
Bonus Details:
Money Matrix Spell
A matrix is an environment or material in which something develops, a surrounding medium or structure.
The money matrix spell is created with a sacred spiritual structure and magickal techniques. Its function is to develop meaning, awareness, dimensional consciousness, intention, subconscious frequency meditation, pineal stimulation, and active abundance encoding.
Everything – from the movement of the planets to the way a leaf falls, to the shape of energy in molecular action – possesses a pattern and measurable structure.
The pattern of electricity in your brain can be mapped and measured and representative of the process of your thoughts, feelings, and choices. All of these measurements form your belief patterns, and they create your life.
Changing our matrix = changing our life.
Attracting abundance requires a different way of thinking.
---

 Being Details:

These Djinn come from the ancient lineage of Djinn in the Marid Race. They are God-Level energy, meaning the being is as powerful as a Deity, equal to or greater than Archangels and Demons.  
We have selected the best entities, meaning they are a living being and have not experienced death (transcendence/ascension) in the realms of existence.
They are Elite Wealth djinn, meaning they have the highest level of power we offer and are 100% focused on manifesting wealth. They have specific traits and skills that make them more successful in areas concerning wealth generation than another djinn.
Just like angels and humans, djinn have personalities, characters, aptitudes, and skills that make them suitable to specialize in areas of human life as experts.
These are non-islamic djinn with Asian influence from modern day Indonesia, Pakistan, India, Bangladesh and more. This means they favor these regions and human culture while continuing to be global influences.
Key Words: Focus, Being Present, Distraction-Free, Skills, Power, Self-Reliance, Wealth, Success, Career, Rising Star, Leadership, Nurturing, Confidence, Faith, Creativity.
---
Dandelion Binding - Digital File Only - No Vessel - No Shipping - No Waiting

---
Lotus Elite Dandelions

These are the Elite Beings with Dandelion Bindings. They are the same high power beings as the Elite Bindings without the vessels and extra physical bonus offers. They allow you instant download access to receive our best beings in a dandelion binding with no waiting - no shipping. You can easily transfer them to any vessel.

---
Refunds & Rehoming
Refunds are not available on any Dandelion Bindings.
Dandelion Bindings are compatible with rehoming, adding to your own jewelry and reselling, or giving as a gift. Just be sure to follow the instructions and to give all documentation to the next owner.
---
We Also Recommend